.hack//G.U. Vol.1//Rebirth
NAV: Characters | AIDAs| Battle system | Guilds | Interim Reports | Screenshots | Scans | Fan art | Media | Official //G.U. site | Discuss .hack//G.U.
Japanese release date:
May 18th, 2006
American release date:
October 24th, 2006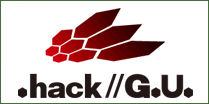 "The story of growth and determination of 8 players as they progress through two worlds, the actual world and the game world."
The Rebirth of a great series
Get ready for a new wave of .hack media. At E3 2005 an interview with CyberConnect 2 president Hiroshi Matsuyama revealed a new .hack video game series in the works. Like the previous games, the new series entitled ".hack//G.U." will span multiple volumes. The //G.U. trilogy will take place in the year 2017, seven years after //INFECTION through //QUARANTINE. "Since the events of the previous games, a cataclysmic event has caused 'The World' to begin to evolve on its own. 'PK's' (Player Killers) are now roaming "The World," though it is not sure how they have come to be. Essentially, 'The World' has become more unstable and uncontrollable. Yet, people keep playing." (
RPGfan
)
For those of you concerned about the series being too short and repetitive, Brain Glazebrook (localization manager of //G.U.) shoots down any worries:
"One of the things [the developers] have noticed, and they recognize, is the fact that the gameplay [hours] for each of the volumes [of the previous games] wasn't up to what people expected, so they've, actually, taken that into account, and this time around, I think people will be more than satisfied. There'll be different and new content from one to the next, so it's not like, 'Oh, it's the same game, just a continuation of the story...' We've made sure that there's enough content for those going from Vol. 1 to Vol. 2, instead of just a continuation of the story."
The main storyline will take roughly 40 hours to beat. The first of three //G.U. games will be entitled .hack//G.U. Vol. 1//Rebirth and is scheduled to be released in the United States on October 24th, 2006. According to .hack//G.U.producer Daisuke Uchiyama and director Hiroshi Matsuyama, 'G.U.' stands for 'Grow Up,' which has twelve meanings hidden in the game.
.hack//G.U. Vol. 1//Rebirth will introduce a unique graphical art style (a mix between cel-shading and anime style drawing). //G.U. will also boast a brand new real-time action battle system. "In addition to standard monster battles, [.hack//G.U.] will also offer versus battles against Player Killers. On the field map, certain spots titled "Battle Area" are visible. Once a player approaches these zones, he will automatically be drawn into battle. Players who are being attacked by a foe might call for help. Successfully aiding them in battle and taking down their opponents will be rewarded by discounts at guild shops." (
RPGFan
)
(
Click here
for more Battle system info)
Two editions of Vol.1//Rebirth will be available on October 24th. The Regular Edition will retail for $39.99 at stores everywhere. The Special Edition includes a disc that recounts the previous games story and some //G.U. secrets as you progress through the trilogy. The Special Edition will be available at EBgames and Gamestop only, retailing for $49.99. There will be no packaged in anime this time around.
"This time around, since we're trying to attract new players, even early adopters, and such, [we're] trying to make everything as easy as possible, without having to go to secondary media for information and such, so, with that said, people get to jump in and watch it through the game without having to [say], 'Oh, I gotta watch the DVD to find out what to do next.' We kind of tried to avoid that. And, also, too, there's enough animation and content, stuff like that, in the game itself... so that kind of adds to the whole animation experience, right there."
(
Click here
to view the interview with Brian Glazebrook)
Integrated inside the game is a short anime series entitled Online Jack, which takes place the real world. Salvadore Aihara, the main character of Online Jack has been researching a condition known as "Doll Syndrome." Exactly what this syndrome entails is unclear, at this point. However, it seems to be some sort of medical condition, affecting children as young as elementary students, and is somehow related to "The World."
(
Click here
for more info on Online Jack)
The World R:2
In 2015 a fire at the main CC Corp. (the company in the .hack universe that created "The World") building resulted in the loss of a lot of data, and The World was forced to shut down. By splicing in data from what would have been another game, CC Corp. was able to rebuild the game system. The next year, "The World R:2" was released. However, many old players objected because they were unable to bring over old character data from the previous version. Nonetheless, many new users were drawn in by the unique style, and over 12 million copies were sold. Though not a match for the previous version's 20 million users, it became the top-selling netgame on the market. As a result of the new world, four major clans (Kestrel, Lunar Tree, Canard, and Raven) came to power. The clans actions shape "The World," and most players end up taking one side or another during conflicts.
(
Click here
for more guild info)
"You play as Haseo, a gray-haired character that's known as 'The Terror of Death,' a nickname derived from his practice of hunting down Player Killers. The protagonist in //G.U. is Tri-Edge, a name which seems to be derived from the shape of his weapon." If you haven't seen any of the
trailers
yet, please do so. Tri-Edge resembles one of our most beloved characters from the previous games. (
Gamespot
)
The names of the main characters in Vol.1 are: Atoli, Ovan, Pai, Endrance, Sakubo, Yata, Kuhn, Tri-Edge, and Haseo. Other announced characters include: Gaspard, Silabus, Sakaki, Bordeaux, Negimaru, and Grein. Bordeaux is a member of Kestrel, a PK-condoning clan. Sakaki is the leader of another clan in //G.U., Moon-tree. Japanese voice overs for the eight main characters of //G.U. have been revealed.
(
Click here
for main character list)