.hack//LINK ("3rd Season Project")
Japanese release date:
March 4th, 2010
American release date:
TBA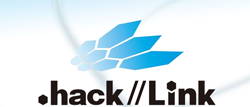 It was reaffirmed at the 2009 Tokyo Game Show that .hack//Link (.hack "3rd season Project" which includes other media outside the game) will indeed be the last chapter of the .hack franchise; however, it will be going out with a big bang! "The year 2010 will belong to .hack," exclaimed CyberConnect2 at this year's Tokyo Game Show. CC2 wants to keep fans plentiful of .hack media all throughout 2010. And that they will.
The .hack//Link PSP game will feature voiceacting, with
Yūko Sanpei
voicing Tokio and
Ami Koshimizu
voicing Saika Amagi, the two protagonists in the game. There will be 33 playable allies in the game (all from different parts of the .hack world) who will help assist Tokio while in battle. Every ally has something called a "Personal Act," where they'll assist Tokio in their own way. For instance, when you run low on items, Mimiru will give you some of hers. When your HP is low, Tsukasa will summon his Guardian for a special counterattack. In //Link Tokio will travel to various points in "The World's" history using the Akashic Records, which are located in his airship. Finally, Link Play is the pseudo multiplayer option in the game. You don't actually interact directly with the other players, but you take different routes through a dungeon and can assist each other indirectly. .hack//Link for Sony Playstation Portable will be out in Japan on March 4th, 2010.
In addition //Link PSP, two newly announced animations will also be rolled out shortly after the games release. Sai, the CG animators of .hack//G.U. Trilogy, will be responsible for one of the new animations, while Bandai Visual will be producing the other anime. Details are scarce, but they are all expected to hit Japan by the end of 2010. Studio4c will be animating the intro cinematic of the .hack//Link PSP game. The Bandai Visual OVA will be out in Spring of 2010 in Japan; the Sai animation project will be released sometime in the next Japanese fiscal year (but, expect that to be out near the end of 2010). The Sai CC2 project will be a movie and have 3D elements integrated into it somehow.
Update:
.hack//Quantum
and
.hack//The Movie
have been announced as the two myserious animations. The
.hack//Quantum +
manga has also been revealed.
Finally, a rumored manga will also be produced. Hailed as the weirdest .hack name in the franchise, .hack//ChapChopCase will follow Piros the 2nd's and Amagi's killing of Mia from the previous .hack series (our best guess is that it will be a manga), and is expected to be be serialized in the Japanese magazine Comptiq starting Winter of 2009. Other unannounced projects include .hack//X'over.
Follow
dothackers on twitter
for late breaking .hack info before it's posted here!
Source:
Dengeki