.hack//G.U. Vol. 2//Reminisce
Japanese release date:
September 28th, 2006
American release date:
May 8th, 2007
According to Vol.2//Reminisce localization manager Nasa Hiro Knittel, part two picks up right after Vol. 1//Rebirth's ending. Vol. 2 boasts thousands of music files and hundreds of thousands of written words. "Basically the story is quite a bit heavier than Vol. 1," exclaims Knittel. "A lot more drama... a lot more darker... very dramatic voice acting in Vol. 2." "There will be a lot of cutscenes."
(
Click here
to read the Reminisce interview with Haseo's voice actor)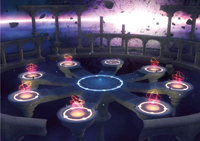 For those new to the series, a summary of the events that took place in Vol. 1 will start right when the game boots up. Knitell goes on to state that you will "be able to switch weapons on the fly" contrast to the old battle system. New to Vol. 2 is Crimson VS, a card battle game available on the Altimit OS desktop.
(Click here
for more Crimson VS info)
Save data from Vol. 1//Rebirth will score players some extra ingame money and items according to how complete the save data from Vol. 1 was. Vol. 2's level cap has also been increased to 100. When asked about .hack//Roots, Knittel encouraged fans to watch Roots on Cartoon Network or buy the DVDs. Doing so will help increase the overall experience of Vol. 2.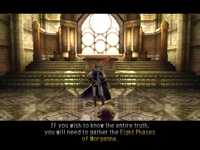 Packaged in with Vol.2//Reminisce is the first episode of .hack//Roots unedited. A special edition of Vol. 2 was initially looked into, but it was decided against for undisclosed reasons. However, those who obtained the Terminal disc from the special edition of Vol. 1 will be able to further unlock new interim reports. Knittel concluded by stating that the //G.U. team is working as fast a they can on the final volume of the //G.U. trilogy and thanks all the .hack fans for being so patient.
(
Click here
to download the .hack//G.U. Vol. 2 trailer)
.hack//G.U. Vol. 2//Reminisce is scheduled to release on May 8th, 2007 for the Playstation 2 in the United states. The retail price is set at $39.99