.hack//Quantum now on Netflix!
Posted on: Oct 14 2013 by Dave | Discuss on BBS |
If you haven't yet seen .hack's latest animated series that, thankfully, made its way to the states, boot up Netflix and all three episodes .hack//Quantum are available to view!

With the recent acquisition of older .hack anime from FUNimation, maybe this is a good //SIGN of things to come on Netflix!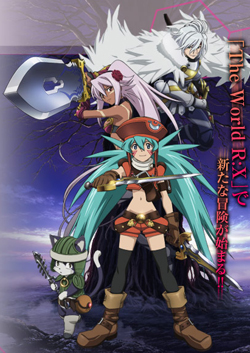 Chicago Marathon Donations!
Posted on: Oct 03 2013 by Dave | Discuss on BBS |
Instead of donating to dothackers (we are covering this years webhosting fees for the first time ever!) - throw your money at a good cause! Donate below to support Julianna running the Chicago Marathon (October 13th) for a few great groups! All raised donations are going to great causes.


Click here to donate
Smartphone News: Shadow Escaper's out, Shinigami Messiah is in!
Posted on: Sep 30 2013 by Kuukai | Discuss on BBS |
Possibly due to iOS 7 issues, CC2's smartphone runner game Shadow Escaper has announced that it will be ending service forever on November 28th at midnight EST. While not particularly .hack-y, the game did evoke images of Great Thief Forteprotze, the game that eventually became .hack.

In its wake comes a new game, Shinigami Messiah for Android and iPhone. The game has a darker feel and the trailer contains the scythes and static we have come to expect from this company. Further announcements are planned for the near future.



Additionally, Bandai Namco filed a new trademark for .hack in Europe. Might this be in preparation for a Guilty Dragon release?
FUNimation Acquires all .hack Anime!
Posted on: Jul 18 2013 by Dave | Discuss on BBS |
Hot off the presses from San Diego Comic con - has acquired basically the entire .hack anime franchise! They include: .hack//SIGN, .hack//ROOTS, .hack//Legend of Twilight, and .hack//G.U. Trilogy.

FUNimation also has the rights to .hack//Quantum, which was released last year in the U.S.

So... who wants .hack//SIGN on Bluray?


ACen 2013 Panel Date and Time Set!
Posted on: Apr 24 2013 by Dave | Discuss on BBS |


Our panel time and location at Anime Central 2013 has been set! Hope to see a lot of dothackers.net fans there!




May 18th, 2013
12:00 PM - 1:00 PM
DaVinci A-B (Hyatt)