.hack//OVAs
//Intermezzo
.hack//intermezzo is an "extra" episode of .hack//sign that was released on DVD. The OVA tells the history of Mimiru's mentor, Mimika. Mimika was a powerful character in 'The World' controlled by three different people. The three girls, soon to all be eighteen years old sought to create one powerful character rather than 3 separate characters, knowing that they would fail if they did it the traditional way. The three girls vowed to play their best and level up their character until they graduate high school. Mimiru and Bear make cameo appearances in the OVA. Intermezzo is not a continuation of the plot, but more of a filler (as in telling you more information) episode. .hack//intermezzo can be seen on the final DVD volume of .hack//sign (Terminus Special Edition).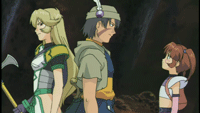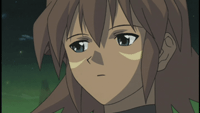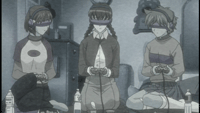 //Unison
.hack//unison takes place some time after the end of .hack//quarantine. Much like Intermezzo, Unison is a filler episode. Subaru, Mimiru and friends decide to meet up in the game to see what's new with their lives. Their meeting location is a virtual bar. Tsukasa logs onto 'The World' for the first time since the incident. Upon logging onto the world, Tsukasa is reunited with Maha, Subaru, Mimiru, BT and Bear. Tsukasa and friends are also introduced to the heroes in the games; Kite, Orca, Mistral, and Blackrose. Helba invites all to a party in net-slum, where they dance happily.
Unison is bundled in the United States final DVD volume of .hack//sign, Terminus Special Edition.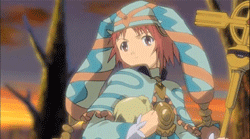 //Gift
.hack//gift is a special OVA that was released with .hack//quarantine. Characters from
.hack//sign
and the games make appearances in gift. Right off the bat you will notice something different about the OVA. All the characters in gift are odly depicted by triangular shapes. Gift is more of a comic relief of .hack//sign and the video games.
The OVA begins with a very revealing Helba thanking everyone for having purchased all the games. She then goes on to say that a "Twilight Onsen", (hot springs bath) has been created and that they should gather in a area using the keywords "Bewildering Fools Hiding Place". Other than that, there is no storyline. Gift is full of fun and hilarious moments.
.hack//gift is bundled in .hack//quarantine on the final liminality disc.