NAV:
Characters
| Vol. 3 Battle system | Vol. 3 Walkthrough |
Interim Reports
| Screenshots |
Fan art
|
Media
Discuss .hack//G.U. Vol. 3
Japanese release date:
January 18th, 2007
American release date:
September 10th, 2007
According to the official press release on Namco Bandai's website, .hack//G.U. Vol. 3//Redemption is scheduled to release this Fall in the United States. The release of the third volume will conclude the //G.U. Trilogy. New to Vol. 3 will be a updated battle system, new episodes of Online Jack, and a new root town named Breg Epona. No word on a special edition of Redemption as of yet. Stay tuned!
(
Click here
to download the .hack//G.U. Vol. 3 trailer)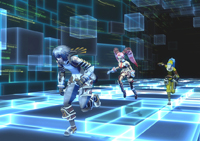 Press Release
"The first two installments of the .hack//G.U. trilogy have drawn players into "The World" with compelling characters, addictive gameplay, and riveting storyline," said Makoto Iwai, Executive Vice President and COO, Namco Bandai Games America Inc. "Delivering a captivating conclusion, .hack//G.U. Vol.3: Redemption will have fans on the edge of their seat from start to finish." "Continuing where the second installment left off, in .hack//G.U. Vol. 3: Redemption Haseo discovers that old enemies have returned and some friends have turned against him. And with the mysterious evil that once lurked only within the confines of the MMO now causing havoc in the real world, Haseo and his friends must overcome impending doom and restore balance to both realities."
"In .hack//G.U. Vol. 3//Redemption, players can utilize an enhanced battle system in which both Haseo and his Avatar Skeith will evolve into new forms to utilize more powerful attacks. Haseo can also obtain a new Awakening mode to deliver extreme damage to enemies. Players can now choose from 22 unique characters to join Haseo's party, explore two new towns, and conquer two new dungeons. With new enemies, more steam bike parts and steam bike missions, new cards for the popular Crimson VS card battle game, and the final tier of the Arena Battles, players won't want to log out of .hack//G.U. Vol. 3//Redemption."
(
Click here
to see the Namco Bandai press release)