Well, I managed to get a hold of the Japanese //Infection so I decided to crack open the files to take a look at what is there and more importantly, what is missing... interestingly enough a lot of things are missing in the Japanese //Infection that is complete by the time of English //Infection. A lot of character portraits were changed, some were literally rough sketches in the Japanese versions and the Japanese versions don't have Wallpapers past the normal ones, (well they technically do with a crudely drawn number of the wallpaper it is meant to be in the corner). Many weapon designs past //Infection are absent, with just the placeholder basic model in their stead. So it looks as if they were still building the games at the time of Japanese //Infection. There is one more interesting aspect however... Terajima Ryoko may look quite different in //Infection judging by her textures compared to the rest of the games, that will be an interesting comparison for certain.
(They likely weren't sure what they wanted to do with Marlo yet as the two states of his design would show)
In the end they wanted to make everything orderly so all PC's look forwards in their portraits, rather than to the side or what have you. That said I think I like this original portrait for Sanjuro better than the used one.
Here are Terajima Ryoko's textures between versions...
(Normal Infection)
(Japanese Infection)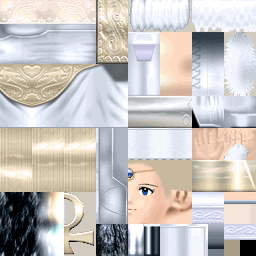 In addition, though the //SIGN NPC's are fully present in the English //Infection they are missing completely from the Japanese version. Bizarrely enough Sieg's character is also missing, despite him appearing in an early scene in //Infection. I'll have to pay attention to see what model is used then.
Seemingly, some file of Skeith's called "Ske_Skl" (Skeith Skill?) is missing from the original //Infection. I imagine this would be Judgement, but how odd that it wouldn't be in Japanese //Infection. Fidchell is also missing several files related to his prophecy and his skills, this follows with the rest of the phases.
Now here's an interesting change! It would seem the design for Macha wasn't yet finalized. Several design portions are missing and the face is remarkably featureless.
Now in the files themselves, the special events of the original //Infection have several discrepancies in later volumes. My bet is that they may have never planned to add //SIGN characters into the game at any capacity, as those are the likely excluded events that would be included already in the English //Infection, and owing to there being no NPC's of them in the first place, or their weapons.
idolItemList does appear to be in place, but there is no IdolSubitemList at All in Japanese //Infection.
Now in the actual game itself...
There is no thread about version changes, because there haven't been any. The World's version is only 2.01 (thanks to Kuukai for pointing that out).
Orca has a different avatar picture. Oddly enough dungeons nor fields have "Area Info" that must have been added later.
Treasures were more randomized, for instance the first two chests you open the tutorial ordinarily have two spell scrolls. In this version I got a Resurrect and a Burning Oil, the latter cannot be obtained in chests.
Second time around I got a Restorative from both chests. Third time around I got another Restorative but I got a Fortune Wire from the Fortune Wire chest...
This becomes alarmingly clear why that is when I take a closer look at the files. There is no SukaItemBoxList (Fortune Wires for when you trip a Trapped Chest) nor a DangerItemBoxList (A list of items that can be obtained from Trapped Chests) (There is also a separate lists for Jars and such, but I can't find the file to it). There is only areaItemList and IdolItemList and all treasure chests link to areaItemList. That explains that part at least.
Boy, does it feel strange to open a Gott Statue and get a single item...
There is bizarrely no "NEW!" mail sign on mail when you get... new mail. Hah.
When you go to talk to NPC's while running for some reason Kite will assume a fighting pose.
Wow! Yikes! I had no idea they put So Much effort into the localization (or at least future volumes) though not noticeable in gameplay the Event System was reworked from the ground up. Event command numbers don't correlate between the two versions at all and there are some unusual event commands that I simply can't place in Japanese //Infection.
Seems like Sieg uses the generic Blademaster with helmet on model, it is likely that they redid his design when they wanted him to show up in the final battle and knew that //ZERO by this point had given him a definitive design so kudos to the localization team putting in that little extra effort!
But that's enough for me now, I'll post more changes as they come.