Holiday hiatus
Posted on: Nov 30 2006 by Dave | Discuss on BBS |
edit: Here's what I believe to be the best objective review of .hack//G.U. Vol.1//Rebirth from RPGFan.com. For those of you still deciding whether to buy Vol. 1 or not, Click here to read the review.

Dothackers will be on an extended hiatus until the end of December. If any news about .hack//G.U. volume two (and three in Japan) comes on to our radar it'll be reported...interrupting our tropical vacation in the Bahamas (where do you thing all the donations went???). Until then, join our extremely active message board.
.hack//Roots to premier Saturday + fanart gallery updated
Posted on: Nov 07 2006 by Dave | Discuss on BBS |
edit: Nov 8th The fanart gallery has been updated. If we missed any of your submissions, send an e-mail to fanart@dothackers.net. This pic is my current favorite. Will the Pai cosplayer please contact me, I am in love with you.

According to a previous news report from ToonZone.net, .hack//Roots is scheduled to start airing on November 11th @ 5am on Cartoon Network in the United States. Yes 5am. You have two options: go to sleep really god damn early or pull an all nigher every Saturday for the next 26 weeks. You decide.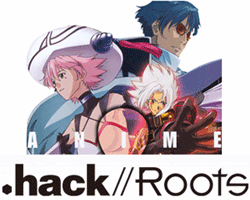 .hack//G.U. Vol.1//Rebirth OUT NOW + send in your fan review
Posted on: Oct 23 2006 by Dave | Discuss on BBS |
edit: Oct 27th
Send in your unbiased non-profit driven review of .hack//G.U. Vol.1//Rebirth to webmaster@dothackers.net. All reviews will be posted on a special review section of the site. Make sure you double check grammar and spelling before e-mailing it to the address. Make your e-mail subject: ".hack//G.U. review" so it doesn't get killed by the spam filter.

The long wait is over. .hack//G.U. Vol. 1//Rebirth ships tomorrow, October 24th. To keep up with the action head on over to dothackers message board. If you're new to the site, click here to register on the board. For those of you new to .hack, visit the //G.U. section here.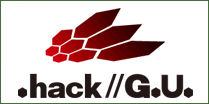 .hack//G.U. Vol.1//Rebirth goes Gold
Posted on: Oct 13 2006 by Dave | Discuss on BBS |
It's hammered in officially. Vol. 1//Rebirth has gone Gold and ships on the 24th.

FOR IMMEDIATE RELEASE

".hack(R)//G.U.(TM) Vol.1: Rebirth(TM)" Adventures to Gold Offline Massively Multiplayer Online Game Scheduled to Ship October 24th

SANTA CLARA, Calif., (October 13, 2006) - Leading video games publisher and developer NAMCO BANDAI Games America Inc. announced today that ".hack(R)//G.U.(TM) Vol.1: Rebirth(TM)" has gone gold. Developed
exclusively for the PlayStation(R)2 computer entertainment system by Cyber Connect 2, ".hack//G.U. Vol.1: Rebirth" plunges players into the most recent incarnation of "The World," a massively multiplayer online game universe. Scheduled to ship on October 24th, players are immediately immersed into the heart of an online world filled with secrets and unexplained phenomena.




"As the latest installment in the popular .hack series, '.hack//G.U. Vol.1: Rebirth' builds on the intriguing storyline of the original action-RPG series, while further exploring the limits of perceived reality," said Naruo Uchida, Vice President of Bandai Localization at NAMCO BANDAI Games America Inc. "The compelling stories and personalities of the lively new characters introduced in this game are sure to appeal to fans as well as those unfamiliar with the franchise. Additionally, we have expanded upon the concept that this game is a simulated MMORPG, yet the game itself is not actually online and no internet connection is required. The A.I. is more intelligent and acts like real players would in a true MMORPG."




Events occurring within "The World" begin to affect players' reality, blurring the fine line between cyber space and the real world. As Haseo, players must form guilds and befriend other player characters in game in order to survive an epic quest that throws reality into chaos. Only by utilizing the strength of their allies through trading items and information will players begin to unravel the mysteries of "The World." Special surprises can be unlocked with the use of data saves from the first .hack series, immersing players even further into the captivating new storyline. With the ability to hack into and manipulate "The World," players can gain an advantage over their enemies - and shape Haseo's destiny.