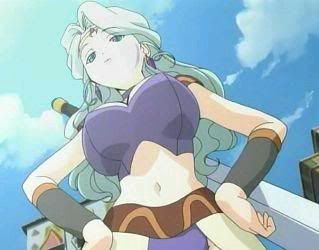 Remember this chick? Yeah, the one who kept having people crash into her breasts in the anime of LotT. Did we ever get an official name for her? She's listed in the DVD credits as "Female Heavy Blade", which doesn't help at all.
It's odd though, because the scary guy who kept hitting on Shugo was given the name "Tom". Yet this woman didn't get a name at all.
I found a fansite that listed her as "Miss. Collision", which is fitting. But I seriously doubt it's canon.