Rakuroikusan wrote:Thanatos is pretty intense though, it makes me wonder if Emma Wielant actually did die in an accident, given that she was part of mama. Can you guys imagine if she never died to begin with, and is actually the one pulling the strings? What a twist that would be. lol
Uh... guys?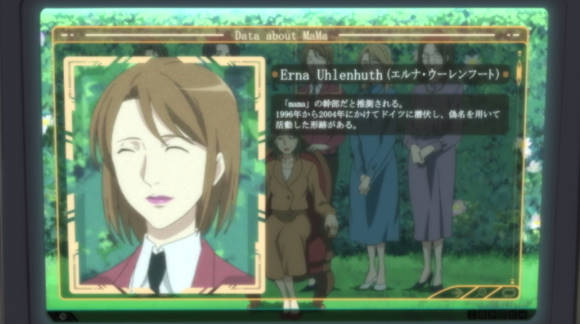 I was translating all the Thanatos Report cruft on mama for the wiki and I noticed this:
Erna Uhlenhuth
Thought to be a leader of mama. From 1996 to 2004, there are signs that she hid in Germany and operated under a false name.
Harald met Emma Wielant in 1996 and she died in 2004. Her name's not even that different. The timeframe doesn't fit any of the other things that happen in Germany. (e.g. .hack//Epitaph of the Twilight, Fluegel's wife, etc.)
Now it's not
necessarily
her I guess, although it's looking pretty likely. Maybe Erna just somehow influenced the situation. But Dominique did say "
we
named her Aura," and that might be starting to make sense.
Also the ages more or less match up, since this picture seems to have been taken in the 80s or 90s (Dominique, the leader, is ancient by 2025).